Northern Wildflowers Tour
Sun 20 August
Mystery Tour
Sun 26 August

New Norcia Wildflowers

Sun 17 September

Millbrook Winery/Mandurah Dolphins

Sun 29 October
Busselton Underwater Observatory Tour
Sun 12 November

Bunbury Dolphin Discovery Tour

Sun 26 November
Christmas Lunch Mystery Tour
Sun 17 December
Australia Day Mystery Tour
Fri 26 January
All 1 Day Tours – $95 per person (Seniors $90 pp) – includes morning tea and lunch.

Kimberley Dreaming – FULL!

Sun 23 – Mon 31 July 2017 (9 days)
$3,650 pp (Seniors $3,600) S/Supp $560

Explore the stunning scenery of the Kimberley – massive boab trees dot the landscape, rugged mountain ranges, and long winding rivers.
Included:
Mt Augustus – Karijini (at wildflower time) – 2 seats left! Or ask us about our 2nd tour in September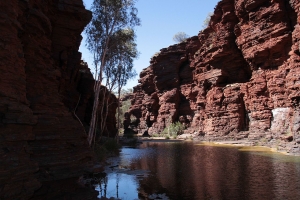 Mon 14 – Wed 23 August 2017 (10 days) Sold Out
Sun 10 – 19 September 2017 (10 days)
$2,875 pp (Seniors $2,825) S/Supp $650

Travel through true outback territory on the way to Mt Augustus, one of the most spectacular peaks of the world's largest monoclines, then continue on to Karijini National Park with its spectacular gorges, creeks and chasms. On the way home we follow the coast, travelling through the beautiful towns of Coral Bay, Carnarvon, and Kalbarri.  As it is wildflower time, we will no doubt be spoilt with spectacular colours wherever we look.
Included:
Wave Rock – Balingup Medieval Festival
Sat 26 to Sun 27 August 2017 (2 days)

$495 pp (Seniors $445) S/Supp $70

A fun weekend away with sightseeing at Hyden, Wave Rock and Mulka's Cave on the first day, followed by music, stalls and jousting at the Balingup Medieval Festival on the second day.
Included:
Northern Wildflowers – Limited seats left!

Sun 03 to Wed 06 September 2017 (4 Days)
$1,100 pp (Seniors $1,050) S/Supp $250

This tour takes in the beauty of the northern wildflower areas of WA, including the elusive wreath flower, carpets of everlastings, and the stunning Blue Leschenaultia to name a few.  A blooming spectacle!
Included:
Australian Bushrangers Trail

Sat 16 to Tue 27 September 2017 (12 days)
$4,040 pp (Seniors $3,990) S/Supp $850

This tour starts in Brisbane and finishes in Melbourne, following the trails and visiting the home grounds of some of Australia's most notorious bushrangers (Capt Starlight, Capt Thunderbolt, the Wild Colonial Boy, Ben Hall, Capt Moonlight, and Ned Kelly), also featuring the river town of Echuca.
Included:
Southern Wildflowers

Sat 07 to Tue 10  October 2017 (4 days)
$1,100 pp (Seniors $1,050) S/Supp $250

This tour takes in the beauty of the southern parks of the south-west of WA.  Behold stunning wildflowers such as spider orchids, morning iris, swamp bottlebrush, painted ladies, to name a few….. Blooming marvellous!
Included:
Historic Outback Towns

Fri 13 to Fri 27 October 2017 (15 days)
$4,550 pp (Seniors $4,500) S/Supp $980

The outback is the vast remote arid interior of Australia.  It is colloquially said that the outback is located beyond the black stump and this is one of the many features we visit on this tour.
Included:
Tasmania – The Apple Isle

Wed 01 to Sun 12 November 2017 (12 Days)
$4,470 pp (Seniors $4420) S/Supp $820

Is it time to tick Tassie off your bucket list?  Wonderful scenery, abundant wildlife, gourmet food and wine.  Explore Hobart's city sights and waterfront before venturing to Mt Field National Park.  Witness the stunning natural beauty of Russell Falls, Lake St Clair, Cradle Mountain, and Freycinet National Park, and more.
Included:
Manjimup Cherry Festival – Gnomesville

Sat 09 to Sun 10 December 2017 (2 days)
$495 pp (Seniors $445) S/Supp $70

Experience the colours and tastes of the Manjimup Cherry Harmony Festival which celebrates the diversity of the horticultural industry in the Manjimup region.  To top off this fabulous weekend, we visit the Harvey Dickson Country Music Centre in Boyup Brook, and then a visit to the thousands of gnomes at Gnomesville – a very popular growing tourist spot not to be missed.
Included:
All tours include:
Motel accommodation, flights (where stated), air-conditioned transport, most meals, entries and side attractions (where stated), departure points from Rockingham Visitor Centre Kent Street, Summers Street East Perth( next to the Rail Terminal), and Joondalup Arena.
For a full itinerary on any of the tours, please contact us.